2007
[6. - 30.Juni] - Unterwegs mit dem Hummer
Wir können´s einfach nicht lassen - nach der Kanada-und-Küsten-Tour 2006 zog es uns diesmal wieder in die Wüste, endlich wieder rote Steine sehen :-) Und dank durchweg Spitzenwetter sowie dem absoluten Traumauto für unsere Zwecke - einem Hummer H3 - konnten wir alles wie geplant durchziehen. Wir hatten uns für diese Tour wieder ein paar der absoluten Südwest-Highlights rausgesucht - u.a. Bisti Wilderness, Coyote Buttes South und White Pocket, und einen langgehegten Traum haben wir uns auch erfüllt, nämlich die White Rim Road zu fahren, mein Vater mit dem Auto, ich mit dem Bike! Dann noch bei strahlendem Sonnenschein über die Paß"straßen" der San Juan Mountains - eine absolute Traumtour!

Galerie:
Best Of 2007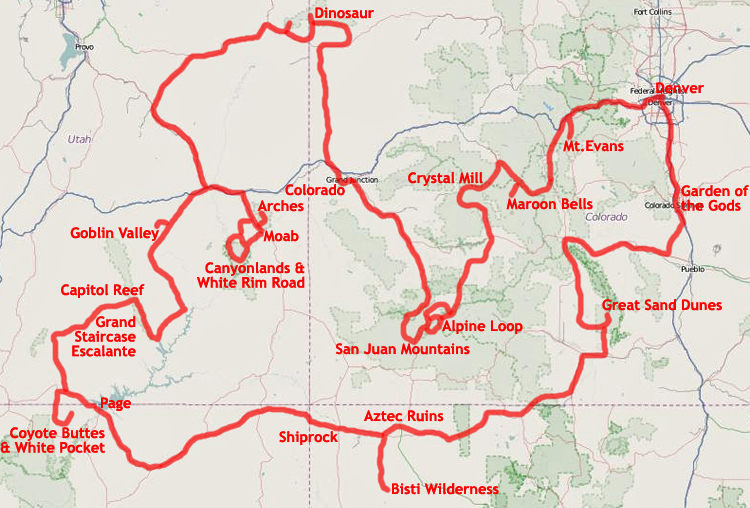 Kartenausschnitt © OpenStreetMap und Mitwirkende, CC-BY-SA
Colorado, New Mexico, Arizona, Utah
Denver
, Colorado Springs, Garden Of The Gods, Royal Gorge Bridge, Great Sand Dunes N.P.,
Aztec Ruins N.M.
, Bisti Wilderness, Shiprock, Page, Water Holes Canyon, Horseshoe Bend,
White Pocket
,
Coyote Buttes South
,
Wire Pass/Buckskin Gulch
,
Alstrom Point
,
Wahweap Hoodoos
,
Cottonwood Canyon
,
Escalante
,
Grand Staircase Escalante N.M.
,
Coyote Gulch
,
Calf Creek Falls
,
Devil´s Garden
,
Capitol Reef N.P.
, Leprechaun Canyon, Little Egypt, Goblin Valley,
Moab
,
Mountain Biking
,
Arches N.P.
,
Canyonlands N.P.
,
White Rim Road
, Fisher Towers,
Dinosaur N.M.
, Colorado N.M.,
Rocky Mountains
,
San Juan Mountains
,
Ouray
,
Silverton
,
Owl Creek Pass
,
Corkscrew Pass
,
Hurricane Pass
,
California Pass
,
Engineer Pass
,
Alpine Loop
,
Ophir Pass
,
Last Dollar Road
,
Dallas Divide
,
North Clear Creek Falls
, Gunnison,
Crested Butte
,
Ohio Pass
,
Kebler Pass
,
McClure Pass
,
Crystal Mill
,
Aspen
,
Maroon Bells
,
Mt. Evans